by Paul Yager
Electrification of vehicles is a hot topic in the automotive industry.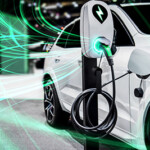 What does it look like for the future and how do we adapt to the changes? Our competitors are buying them by the hundreds of thousands and the question gets asked of us at Enterprise Rent-A-Car, "What are you doing about EVs and do you plan on having them?"
At Enterprise, we are preparing for the EV revolution and have a team of employees dedicated to their development and the roll out for our company. We currently have them available to rent in many areas but it's still a struggle due to lack of infrastructure. There is a space for the EV but it's not going to be taking over as quickly as people think and there will be plenty of good old-fashioned, gas-powered vehicles for a long time.
In a recent article from Axios by Nathan Borney and Joann Muller, they discussed the average age of U.S. vehicles continues to rise and is at an all-time high. The current average age of vehicles on the road is now 12.5 years as Americans are keeping their vehicles longer than ever. The newer vehicles are costing more – low inventory with advanced technology, along with the demand for more SUVs and trucks. It's clear that it's also allowing those vehicles to last longer as hitting the 100,000 mileage mark isn't as big of a deal anymore. That means more regular maintenance and replacement parts as these vehicles age. The article also claims that it will likely take until at least 2050, if not longer, for gas-powered cars to be off the road. (Maybe by then the Vikings can win a Super Bowl!)
Changes are inevitable in the industry. It's important to be flexible and to adapt with them just as you've had to adapt with the current technology changes like calibrations. Educate yourself and use your business partners as resources as we will need these to be successful.
Want more? Check out the July issue of AASP-MN News!