by Alana Quartuccio
At the end of April, state affiliate leaders of the Alliance of Automotive Service Providers (AASP) gathered at the I-CAR Chicago Technical Center (CTC) in Vernon Hills, Illinois for a full day of learning, sharing and interacting during the national association's first meeting of 2023.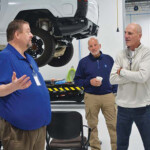 AASP-MN Executive Director Linden Wicklund and the National Board's current President Dan Sjolseth (Superior Service Center; Eagan) made the trip out to connect with fellow members of AASP National, tour I-CAR's newly unveiled CTC and to share the goals and efforts of the Alliance with colleagues from around the country including New Jersey, Pennsylvania, Massachusetts, New York, North Carolina and Illinois.
Conversation went back and forth around the room as Wicklund and other leaders shared their experiences within their own membership groups along with information and education related to ADAS, Right to Appraisal, photo estimating, storage and administration fees and the liability repairers face if cars are not fixed to OEM standards.
Wicklund shared AASP-MN's efforts to keep members supplied with resources and information, making sure they know how to properly document line items and recognize state statute violations, while not being afraid to speak up and file complaints.
Providing high quality educational opportunities continues to be a strong suit of the association and now it's going even deeper with the addition of what Wicklund calls "more casual" opportunities as a way to get more people to engage. The group meets twice in person and twice online each month.
Wicklund noted that many people who have shown up admit to having never participated in the past. "It often almost becomes a group coaching session for the shops that have been on the sidelines," she said. Using the analogy of a "Bible Study," the gatherings bring people together in a casual networking environment so even those who may not be as active can feel more comfortable taking part.
"It's a great collaboration, just like we've had in this room today," commented Sjolseth. "The meetings don't get too technical; it's a lot about sharing best practices and experiences."
During her report, AASP National Administrator Judell Anderson shared the recent success of the AASP-supported Database Enhancement Gateway (DEG), supplied by its administrator Danny Gredinberg. Highlights included the DEG's newly refurbished website and the significant corrections made to the estimating systems as a result of the DEG's efforts. She applauded the DEG for its large impact on body shops all across the country that will benefit from those corrections.
"I don't think you can point to anything else that has the impact the DEG has," Anderson praised, adding that if more repair professionals took the time to submit inquiries, it would be even greater.
Meeting at the I-CAR training center allowed affiliate leaders the opportunity to walk through the new facility courtesy of a tour led by Bud Center, director of technical products and curriculum.
Center relayed the specific design requirements that were needed for the facility, especially for its ADAS calibration training area. I-CAR worked closely with the contractor to make sure the floor was completely level and flat as per requirements of many manufacturers when it comes to their ADAS calibrations.
"A self-leveling product had to be poured, a little at a time, and then 3D lasers were put all over the floor to make sure it stayed level," Center explained. In fact, the contractor they worked with admitted he had never been asked to produce a completely flat and level surface previously.
Lighting is another key factor in ADAS calibrations. The lighting in the room is designed to be dimmed, so it can be adjusted to match daylight. According to Center, there are many situations that require lighting to match outdoor lighting, and without it, it can take a lot longer to set a dynamic calibration.
As AASP members stopped to look at the equipment, tools and vehicles used in EV training, Center reviewed the five-day process that starts with understanding the basics of electricity through the teaching of building electrical circuits. Once the trainees have developed an understanding about the different things involved in high voltage vehicles, they will be able to test and diagnose so they know what to expect when working on a live vehicle. Once that understanding is reached, trainees can work on a live vehicle with the proper PPE.
"We have people coming through here and saying, 'My head hurts trying to take in all this information and understand it all,'" Center said of the intense program, adding that people will comment that EVs are not widely seen. "It only takes one vehicle to kill somebody," he noted.
An overview led by I-CAR's Mike Mertes and Jeff Peevy on how "cutting edge" innovations like AI can be possibly utilized in training evolved into an eye-opening discussion on technology advancements as a recruitment tool as the group considered the future of collision repair.
I-CAR is also in the early stages of developing a virtual repair planning game that, once mastered, would put that technician in a more advantageous position over the average tech entering the field.
Cars are more computerized than ever before. Although most of the world may not realize it, technical process skills are needed in addition to hands-on skills, Peevy stressed. "Once someone envisions something with wheels on it, they automatically think one has to be good with their hands."
Changing the look of the industry is necessary in getting a new generation into the fold, but the biggest hurdle with this might be changing which skill sets shops are focused on when recruiting new employees.
Wicklund shared that she recently asked shop owners if any had considered looking at young IT professionals as a source of future employment, as individuals possessing the skill set necessary to diagnose computerized physical objects (like vehicles) and "may not want to work in a basement" could be a good fit for this industry. She shared that responses received indicated that these individuals "don't know how to turn a wrench." She noted that teaching the hands-on skills related to automotive repair might be easier than teaching some computer diagnostics.
The AASP National Board plans to reconvene at the SEMA 2023 show in Las Vegas.
Want more? Check out the June issue of AASP-MN News!