Maintaining and Building Strong Legislative Relationships
by Sam Ritchie & Shannon Mitchell, AASP-MN Lobbyists
Senate Republicans have unveiled their tax bill – an $8.4 billion tax cut package –
 

signaling to potential voters that tax relief is their top priority.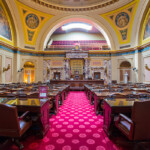 House Democrats argue the money should be invested into education, human health and services and other areas via supplemental budget appropriations. Split control of the legislature has resulted in partisan posturing thus far. Additionally, with redrawn legislative districts and every seat being up for election in November, there is a lot of political messaging happening at the Capitol. As a result, it's uncertain what, if any, compromises will be reached as we near the end of the legislative session.
Despite the partisan environment, AASP-MN has maintained strong relationships with legislators on both sides of the aisle who have championed our work. AASP-MN remains a critical stakeholder in industry conversations at the Capitol. To that end, AASP-MN successfully advocated to maintain the definitions of "high-value" and "late model" in salvage titles by educating committee members, providing testimony and submitting letters of support.
AASP-MN also sponsored legislation that would require insurers to accept or deny submitted claims within three days. While this legislation has chief authors and has been introduced, it's the beginning of a longer advocacy campaign that will run into next year.
As we think about the following year, the record turnover and the number of new faces at the legislature present an exciting opportunity for AASP-MN to educate new members on critical issues impacting the industry and ultimately push legislative solutions. This will require building a foundation in the "off season" by determining which legislative changes to pursue. Current potential top priorities include "short-pay" and prevailing rate disagreements. We will continue to collect evidence of the negative impacts of these practices on shops and consumers as we craft our legislative agenda.
Beyond refining our priorities and gathering supporting information, we will need to educate seasoned and new lawmakers alike who sit on relevant committees. One of the most effective ways to do this is to build relationships that give people a chance to connect with decision-makers as people. Shop tours with elected officials and candidates are a great way to accomplish this. Members of the AASP-MN Government Relations Committee will be taking the lead on this work and sharing updates and opportunities to take action with the broader membership.
Want more? Check out the May 2022 issue of AASP-MN News!