by Sam Richie & Shannon K. Mitchell, AASP-MN Lobbyists
With the election now far in the rearview mirror and the DFL poised to have control of both chambers of the legislature in addition to the Governor's office in St. Paul, party and committee leaders have been named and top priorities have been identified.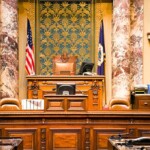 As a refresher, the DFL maintained control of the House of Representatives by the same margin they held for the last two years – 70 to 64. The Senate, which the Republicans had controlled, will now also be run by the DFL by a razor thin one-seat majority – 34 to 33. With Governor Walz winning reelection, the DFL has a "trifecta" of state legislative control, a feat neither party has achieved since 2013. Additionally, the economic forecast released in mid-December continues to be strong. Because leaders walked away from bonding, spending and tax bills last year, the surplus leftover from 2022 has grown to a record-breaking $17.6 billion.
DFL leadership in the House and Senate and Gov. Tim Walz have all said passing a bonding bill will be a top priority. They are expected to propose the largest bonding bill in state history because inflation and delays in getting projects off the ground have increased the prices of pending projects. There will also likely be focus on a tax bill. DFL leaders have also discussed establishing a new Paid Family Leave program and spending more on education, health and human services and housing.
AASP-MN's proposed legislation (and legislation that impacts AASP-MN's members) is most often handled in the Commerce Committees in the House and Senate. Committee chairs hold substantial power in determining which proposed legislation moves forward to be signed into law. During the 2023 session, Rep. Zach Stephenson (DFL – Coon Rapids) will continue to chair the Commerce Committee in the House of Representatives. In the Senate, there will be a significant shift in dynamics as the DFL takes control and Sen. Matt Klein (DFL- Mendota Heights) chairs the Senate Commerce Committee. With more than one third of the entire legislature consisting of new members, we look forward to upcoming committee assignments so we can get to know a lot of new lawmakers.
AASP-MN is working to solidify its legislative priorities. Some priorities that we'll likely continue to advance include a requirement that insurance companies approve or deny claims within three days or be liable to pay for storage costs. Additional enforcement mechanisms to firm up statutes on steering, reasonable repair and short-pay will also be legislative priorities.
AASP-MN will also reserve the capacity to respond to urgent legislative issues as they arise, both supporting policies and funding that benefit members and working to identify and address any adverse legislation. One area receiving attention from many stakeholders is workforce development funding and programs, something impacting AASP-MN members. Training credits and funding for employers who provide on-the-job training is one of several workforce development initiatives AASP-MN will monitor and support.
The legislative strength of AASP-MN lies within its statewide membership base. With so many new legislators and new committee chairs, there is a unique opportunity to educate lawmakers about the issues members face and the corresponding legislative solutions. Shop visits and in-person meetings with legislators at the Capitol can move the dial in the right direction so stay tuned as we put together lists that match shop owners to legislators on the relevant committees and in leadership positions.

Want more? Check out the January 2023 issue of AASP-MN News!