by Chasidy Rae Sisk
A look into the National Automotive Service Task Force (NASTF), a valuable tool to help repairers find important OEM information.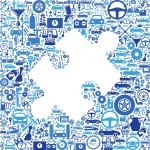 With vehicles becoming increasingly complex – they're basically computers on wheels – it's more important than ever to ensure that repairers have access to information on OEM service, tooling and training recommendations. AASP-MN's recent Mech XChange, which focused on emerging technologies, featured a discussion on a useful resource for acquiring access to OEM information: the National Automotive Service Task Force (NASTF).
NASTF Executive Officer Donny Seyfer sat down with AASP-MN News to share the organization's purpose and goals:
"NASTF was founded in 2000 as a joint venture between the automotive aftermarket and automakers to be a conduit to resolve gaps in service information, OE training information and tool information and availability. In 2006, NASTF became responsible for the Secure Data Release Model (SDRM) under which independent technicians and locksmiths have access to vehicle security information used to reinitialize vehicles after security-related repairs and when making new keys for the vehicle owner."
NASTF provides OEM repair information free of charge to the industry, funding the program through its Vehicle Security Professional (VSP) program by which locksmiths and other vetted professionals obtain their SDRM credentials.
"By working closely with automakers and the aftermarket, NASTF has developed very good relationships with most automakers," Seyfer continues. "It's not always easy being in the middle, but we see the fruits of our labor when comparing the availability and quality of OEM information that's available now to what was available prior to NASTF's existence; that type of progress does not happen by legislation, regulation and agreements alone. By getting people involved and helping both parties comprehend the other's challenges and needs, we've helped raise the standard of communication and understanding between technicians and automakers, and the end result is a better product."
Through the NASTF Automotive Service Information Standards Agreement with vehicle manufacturers, NASTF seeks to ensure that all information provided to dealers by the OEM is also made available to independent technicians.
"Our agreement is comprehensive," Seyfer elaborates. "While EPA and CARB [California Air Resources Board] regulations cover only emissions-related repairs, the NASTF agreement covers all vehicle systems related to repairs. Even most third-party information providers source their information from agreements made with automakers."
Why is access to OEM repair information vital for shops?
"If that information is not available in a timely manner, those who work on the newest cars can encounter problems completing a repair in a timely and efficient manner," Seyfer explains. "This is particularly true for collision shops where a vehicle can be in need of repair within weeks of its release."
AASP-MN member Seth Thorson (Eurotech Autoworks; New Brighton), who serves as a volunteer NASTF Board member and shared information about the organization at the Mech XChange, agrees that access to repair information is imperative for shops that want to ensure they're safely and correctly repairing customers' vehicles.
"We need to hold automakers accountable to make sure we have access to the right information and tools like they promised us," Thorson says. "Some OEMs are more difficult, but the NASTF agreement is a great catalyst for accountability."
"AASP-MN's Mech XChange offers a great opportunity for shops to get together and discuss best practices," Thorson adds. "A lot of attendees at our last event didn't realize how much information is available through NASTF; there's a disconnect in the industry for understanding why shops should be involved with this organization."
As an example of NASTF's benefits, Thorson notes that a Mercedes was recently brought to his shop after several other facilities were unable to repair the vehicle, due to unavailability of parts.
"We were able to order the parts through NASTF, allowing us to fix that customer's car. OE tools are also available. A lot of shops don't realize how much NASTF offers and does for our industry. The top five to 10 percent of shops know what's available, and then there's another 10 to 15 percent of shops that have some idea; however, the vast majority of the industry has no clue what's available to make their jobs easier."
Using its human and technical resources, NASTF works behind the scenes to watch for potential issues and try to resolve them before they escalate.
"Shops that use NASTF's services enjoy improvements in efficiency because they can spend their time repairing vehicles instead of searching for information," according to Seyfer, who also offered advice for repairers to follow if they notice a gap in repair information:
"If you cannot find a piece of information, buy a scan tool or locate training information after searching the OEM's website, start by contacting the automaker's support to request assistance; OEM support links are available by brand on our website. If the automaker does not respond within 24 hours, or if they do not resolve the problem, repairers can file a Service Information Request with NASTF, and after reviewing the request, we'll contact the automaker on your behalf to resolve the issue."
Visit nastf.org for more information or to register for access.
Want more? Check out the January issue of AASP-MN News!