ABAT may be serious when it comes to protecting the collision repair industry, but the association also knows how to have a lot of fun.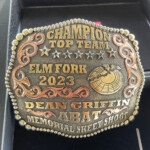 Last month, ABAT's Sixth Annual Dean Griffin Memorial Skeet Shoot at Elm Fork Shooting Sports in Dallas was yet another example of the great times that can be expected when ABAT members gather.
"The 2023 Skeet Shoot was amazing!" shared ABAT Executive Director Jill Tuggle. "It was our best one yet with 80 shooters and about 90 people in attendance. The top team was Rick Gardner (Auto Tech Services Collision Repair; Mansfield) and his group of 'young guns' – his 17-year-old grandson and two of his teammates from his school's shooting team – and they won these gorgeous belt buckles the size of a salad plate which was Brandon Gillespy's idea and a huge hit!"
ABAT recognized three top shooter winners:
•  Top Shooter (Expert Level): Harmon Groves from Burleson Centennial High School; Burleson (score: 93/100)
•  Top Shooter (Intermediate Level): Brodie White of Magic Touch Paint & Body; Lewisville (score: 66/100)
•  Top Shooter (Novice Level): Eric McKenzie of Park Place BodyWerks; Dallas (score: 49/100)
In 2020, the annual fundraiser was renamed in honor of late ABAT Board member Dean Griffin, with half of the proceeds being contributed to a college fund for Griffin's daughter, Natalie. The 2023 Dean Griffin Memorial Skeet Shoot featured a number of other prizes, food, drinks and even Cuban cigars which were professionally rolled on site. Sounds like yet another ABAT event that hit the target!
Want more? Check out the June 2023 issue of Texas Automotive!